The very real reality that we are moving in a matter of days has finally set in. Our apartment needs sorting and packing; some type of cleanse even, ridding us of the random junk we've acquired over the three years (give or take) we've lived here. I'm kicking it into high gear, abandoning my
sit and be frame of mind
, anxious about getting into
our new home
. I'm not overwhelmed, though. I've got this little girl on my side. She's great at packing boxes.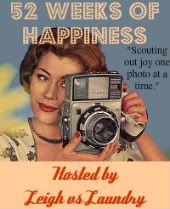 We make a great team, this girl and me. She pulls down items from shelves, and hands them to me. I compliment on how wonderful of helper she is and she responds, "You're elcome." Sweet girl.
This little love nest has been
kind to us
, the place we've called home. Comfortable, convenient, and cozy; just right in a Goldie Locks kinda way. As we box up the last three years of our lives, stumbling upon memories, I realize how far we've come. I'll miss this little place.